BREMBO XTRA FRONT BRAKE DISC BMW X1 (E84) XDRIVE 20 D 135KW 07/12-06/15
Brembo
Order it before 23 hours and 52 minutes and it will be shipped tomorrow with Corriere Espresso
Shipping cost
UPS: €92.00
Express Shipping by UPS
BREMBO XTRA BRAKE DISC


Side application : Front (right and left)

Disc code : 09.B337.2X
Diameter : 312mm
Height (offset) : 73,2mm
Thickness : 24mm
Minimun Thickness : 22,6mm
Centering : 79mm
Number of holes : 5
Ventilation type : Vented
Approval type : ECE R90




Attention: Brembo Xtra discs are sold only in pairs. This listing refers to the single disc, the minimum purchase quantity to add to the cart will be 2 discs.

The new range of Brembo Xtra brake discs is characterized by a specific perforation that combines the captivating aesthetic effect with brilliant and effective behavior in all braking conditions. Developed by the R&D department on the basis of its experience with car manufacturers and the world of racing, Brembo Xtra discs are characterized by holes on the braking surface capable of significantly improving the performance of the system. Sporty look enhanced by UA paint.


To obtain a performing and safe product, in the design phase, Brembo technicians studied the number, size, shape and position of each hole for each specific disc in the range. The Brembo Xtra discs designed in this way have passed all tests on the dynamometer and on the road.
Compact, medium, coupé and SUV cars are some of the final applications selected for the Brembo Xtra range. The result is the most complete and up-to-date range of sports discs on the market. Brembo Xtra perforated discs combine the guarantee of maximum reliability in terms of resistance, performance and safety.


Greater Grip
The presence of the holes on the brake disc guarantees high grip and an effective and prompt response, especially in the initial stages of braking. The surface of the holes guarantees an excellent yield thanks to the remarkable coefficient of friction.
Maximum friction even at high temperatures
At high temperatures, the combustion of the resins that make up the pad generates gases that can cause fading, reducing the friction between the pad and disc.
The presence of the holes allows a rapid expulsion of the gases and a more stable behavior even at high temperatures.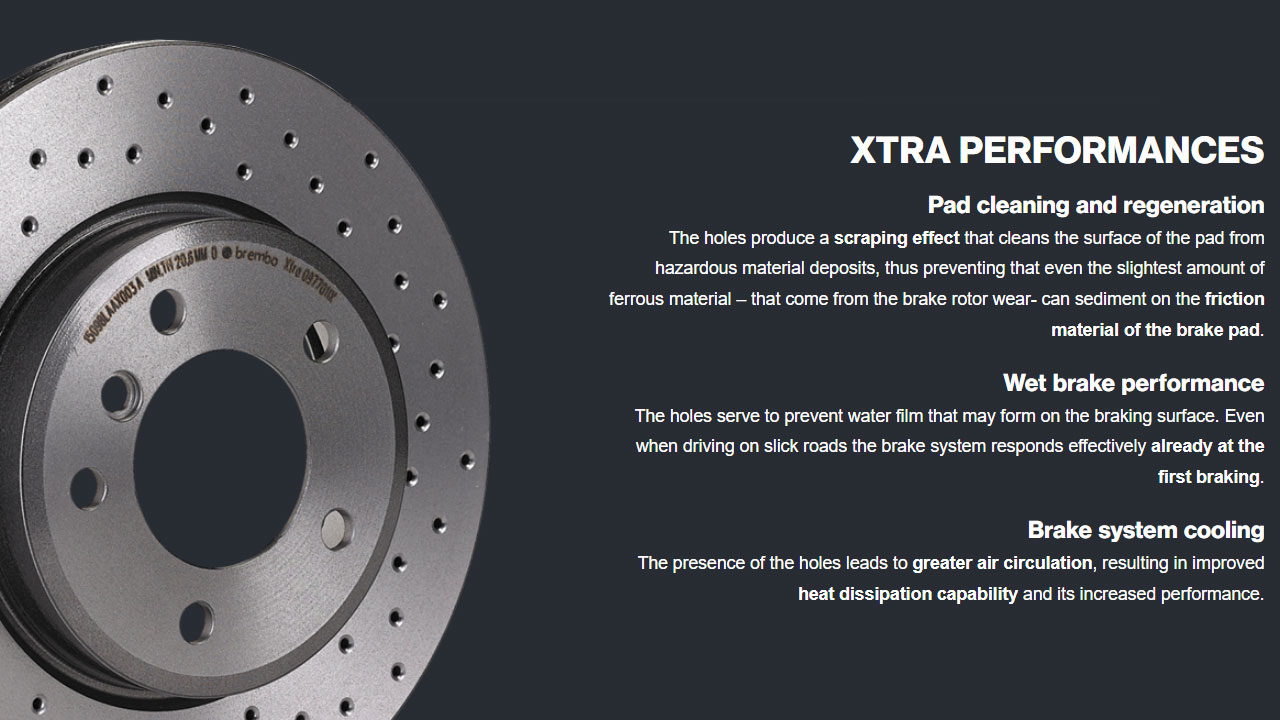 NB: The picture is only indicative.

FOR MORE INFO PLEASE CONTACT US
Tipologia

Brembo dischi

Produttore Compatibile

FOR BMW

Pronta Consegna

Si
Make model compatibility
BMW X1 E84 xDrive20d 1995 ccm, 135 KW, 184 PS 2012 - 2015
Other products that might interest you: